With programs in 12 countries and members in 120 countries, the AACR collaborates on a global scale to promote scientific excellence and benefit all people by reducing cancer incidence, morbidity, and mortality. Through collaborations with 16 international organizations, the AACR provided scientific conferences, educational workshops, and financial support to the cancer research community on six continents in 2018.
Launching A New Transatlantic Partnership
In April 2018, the AACR and Cancer Research UK (CRUK) announced a new international alliance aimed toward accelerating the pace of progress against cancer. The announcement was made jointly by AACR President (2017-2018) Michael A. Caligiuri, MD, FAACR, and CRUK Chief Clinician Charles Swanton, MD, PhD, FRCP, during the opening ceremony at the AACR Annual Meeting 2018.
The alliance between the world's largest professional organization dedicated to advancing cancer research and the world's largest fundraising medical research charity will build transatlantic collaborations by establishing training and exchange programs, convening international meetings and workshops, and uniting the community to influence global research policy.
Joint Conferences and Workshops
The AACR collaborated with 12 international cancer research organizations in 2018 to develop the following joint conferences, educational workshops, and symposia:
Twentieth ECCO-AACR-EORTC-ESMO Methods in Clinical Cancer Research Workshop
Zeist, The Netherlands, June 2018
Sixth JCA-AACR Special Joint Conference on the Latest Advances in Lung Cancer Research: From Basic Science to Therapeutics
Kyoto, Japan, July 2018
ACORD: Australia & Asia Pacific Clinical Oncology Research Development Workshop
Sydney, Australia, September 2018
Other International Collaborations
The AACR worked with additional organizations while developing joint sessions for the following international conferences:
A.C. Camargo Next Frontiers to Cure Cancer Conference
São Paolo, Brazil, May 2018
The AACR partnered with LACOG to offer a session on "Science behind the Trial," in which Brazilian investigators presented the results of three clinical trials and AACR scientists discussed the biological underpinnings of each study.
CSCO 21st Annual Meeting
Xiamen, China, September 2018
The AACR and CSCO offered a symposium titled "Update and New Paradigm in Cancer Immunology Research."
UICC World Cancer Congress
Kuala Lumpur, Malaysia, October 2018
The AACR worked with the UICC to organize a session on "Breast Cancer Genomic Risk Assessment in Global Health: Implementation in Low-Resource Settings."
ESMO Asia Congress 2018
Singapore, November 2018
The AACR collaborated with the conference organizers to develop two joint symposia: "PD1/PDL1: From Discovery to Clinical Use" and "ALK Gene Fusions: From Discovery to Clinical Use."
Poster Prizes and Travel Awards
In 2018, the AACR offered an expanded slate of opportunities to international investigators to travel to Chicago, Illinois, and participate in the AACR Annual Meeting—the touchstone event for the global cancer research community—while also offering opportunities for AACR members to present their work abroad:
Working with the program committees for the Frontiers in Cancer Science Conference (Singapore, November 2017; organized by the Cancer Science Institute of Singapore) and the Fourth Conference on New Horizons in Cancer Research (Shanghai, China, November 2017), the AACR awarded prizes to the presenters of two highly-rated posters from each meeting. The prizes provided travel support to the presenters, enabling them to attend the AACR Annual Meeting.
International AACR Collaborators in 2018
A.C. Camargo Cancer Center
Association for Cancer Immunotherapy (CIMT)
Cancer Science Institute of Singapore (CSI)
Chinese Society for Clinical Oncology (CSCO)
Cancer Research UK (CRUK)
European Academy of Tumor Immunotherapy (EATI)
European Association for Cancer Research (EACR)
European Cancer Organisation (ECCO)
European Medicines Agency (EMA)
European Organisation for Research and Treatment of Cancer (EORTC)
European Society for Medical Oncology (ESMO)
Israel Society for Cancer Research (ISCR)
Japanese Cancer Association (JCA)
Korean Cancer Association (KCA)
Latin American Cooperative Oncology Group (LACOG)
Medical Oncology Group of Australia (MOGA)
Enhancing the AACR's Relationship with Israel
While in Jerusalem in October to attend the conference on "The Cutting Edge of Contemporary Cancer Research"—a joint venture between the AACR, the European Association for Cancer Research (EACR), and the Israel Society for Cancer Research (ISCR)—AACR CEO Margaret Foti, PhD, MD (hc) (center), met with Israeli President Reuven Rivlin (right) and First Lady Nechama Rivlin at their residence. During her remarks, Dr. Foti highlighted the progress that has been made against cancer and the importance of international collaborations to advancing that progress. The meeting was coordinated by Miri Ziv (left), Director General of the Israel Cancer Association; in her remarks, Dr. Foti acknowledged Ms. Ziv for her contributions to international cancer research and advocacy.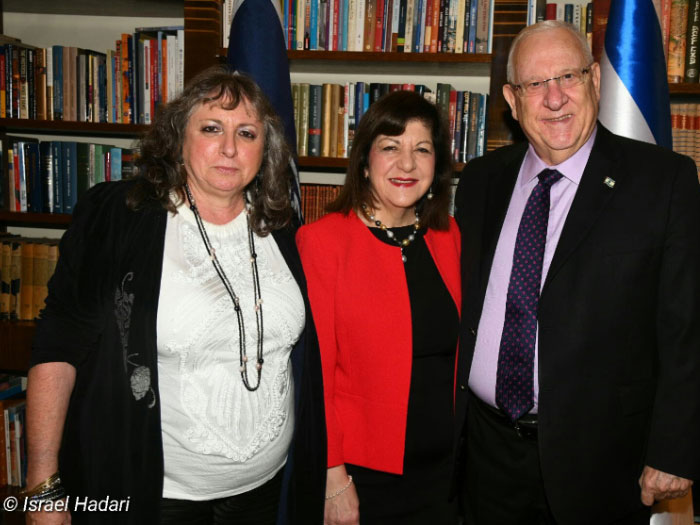 World Cancer Research Day
The AACR joined ten other cofounding partner organizations to mark World Cancer Research Day on September 24. The goal of World Cancer Research Day was to raise awareness of the extraordinary impact of cancer science and to acknowledge the contributions made by cancer researchers to reduce the global burden of cancer.