The AACR is the authoritative voice of cancer research, using meetings, publications, and other programs to disseminate breakthrough discoveries made by scientists and clinicians. Equally important, the AACR's Survivor and Patient Advocacy programs give a voice to cancer patients, providing forums that empower patients to tell their stories and share their perspectives with the cancer research community.
Scientist↔Survivor Program
The cornerstone of the AACR's survivor and patient advocacy efforts is the Scientist↔Survivor Program (SSP), which brings patient advocates together with scientists and clinicians to attend sessions at AACR scientific meetings. Participants attend sessions with their AACR scientist mentors, gaining an understanding of the innovative science behind treatment decisions while providing their counterparts with vital patient perspectives.
In 2018, the AACR celebrated the 20th anniversary of the SSP—the longest-running survivor program in the cancer research community. This milestone was commemorated during the opening ceremony of the AACR Annual Meeting 2018 with a video highlighting the history of the program and charting its future direction. In addition, Anna D. Barker, PhD (far right)—who founded the Scientist↔Survivor Program with AACR CEO Margaret Foti, PhD, MD (hc)—was presented with the AACR Distinguished Award for Exceptional Leadership in Cancer Science Policy and Advocacy in recognition of her two decades of dedication to patient advocates through this remarkable and impactful program. During the life of this program, more than 500 advocates from all over the world have participated in this educational experience.
Nearly 40 patient advocates participated in the SSP in 2018, joining scientist and clinician mentors at the AACR Annual Meeting in April and the Science of Cancer Health Disparities conference in November. Annual Meeting program participants included patient advocates from Trinidad and Tobago, Japan, and Canada. During the Annual Meeting, two AACR members were named Emeritus Mentors in recognition of their long-standing commitment to the SSP. The advocates thanked Peter Kuhn, PhD, and Christopher Kissinger, PhD, for sharing their time and expertise with program participants for more than three years.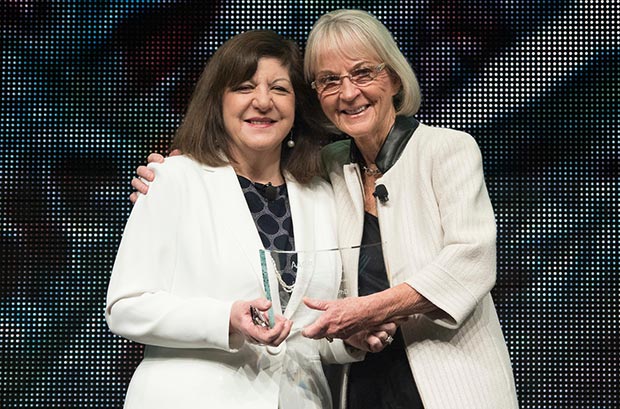 Cancer Today Magazine
Cancer Today—the AACR's magazine for cancer patients, survivors, and caregivers—provides vital information for anyone navigating the challenges of cancer diagnosis, treatment, and survival while also offering a platform for patients to share stories of their journey with cancer. Now in its seventh full year of publication, the magazine continues to tackle important cancer topics in a serious, comprehensive way. Among the most compelling stories published in 2018 were the following: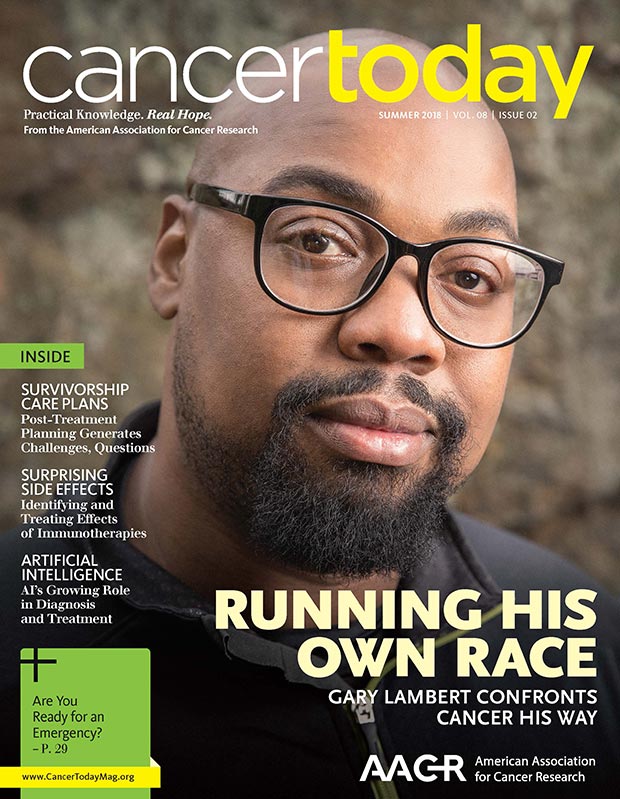 Under the leadership of editor-in-chief William G. Nelson, MD, PhD, Cancer Today pursued two major initiatives in 2018 to expand its presence among patients and their loved ones:
In February, the Cancer Today website was re-launched with a new format that makes it easier for readers to find late-breaking news about cancer research, new cancer therapies, prevention strategies, and clinical trials. The new website features more original stories, and its mobile-friendly design enables the editorial staff to share more content with the magazine's growing social media following. Traffic to Cancer Today online has more than doubled since the launch of the new site, expanding the reach of this vital publication.
In March, the Cancer Today staff established an online book club to offer readers an opportunity to engage with the magazine staff and other cancer patients, caregivers, survivors, and advocates. Led by senior editor Marci A. Landsmann, each quarter the club featured a book that shared a unique perspective on the cancer experience—whether by illuminating a complex scientific topic or describing a common survivor experience or challenge. Online discussion of each book culminated in a live online conversation with the author on the magazine's Facebook page.